A Dedication to an Innovative Thinker and Challenger
Innovation is to make something out of nothing, and to change impossibility into possibility. Innovation is a long and painful fight within oneself. Only creative thinking, steadfast will, and bold spirit can accompany this process.
The Pony Chung Innovation Award is a testament to Honorary Chairman Se-yung Chung's philosophy about innovation, and celebrates his innovative thinking and pioneering spirit. The award is designed to promote positive changes and growth in Korean society by singling out some of the greatest innovators of our time.
Selection Process and Prize
Nominees are recommended by the foundation's directors, former awardees, award judges, and notable individuals or organizations in Korea and overseas. The winner is selected by a judging committee consist-ing of fewer than 10 professionals appointed by the Chief Director (chairman of the judging committee) of the foundation. The winner is granted with a prize money worth 100 million KRW and a plaque.
Jan - Feb
Recommendation
of Nominees
March - April
Screening Process
April
Final Winner Selected
May
Award Ceremony
We support future's Pony Chungs
who will take on the bold challenges
to realize their dreams.
2007

1st Winner Ki-moon Ban, UN Secretary General

2008

2nd Winner Nam-pyo Suh, President, KAIST

2009

3rd Winner World Headquarters of Canaan Farmers Movement (President Bum-il, Kim)

2010

4th Winner In-pyo Cha and Ae-ra Shin (Couple)

2011

5th Winner Ha-joon Chang, Professor, University of Cambridge

2012

6th Winner Beom-su Kim, Chairman of the Board of Directors at Kakao, Inc
2013

7th Winner Jeannie C. Suk, Tenured Professor, Harvard Law School

2014

8th Winner Yuna Kim, 2010 Vancouver Winter Olympics Gold Medalist

2015

9th Winner Giorgetto Giugiaro, Industrial Designer

2016

10th Winner Seong-jin Cho, Pianist

2017

11th Winner John Cook-Jong Lee, Director of the Ajou University Hospital Trauma Center

2018

12th Winner Father Ha Jong Kim
Representative of Anna's House
Winner Interview
If something makes you
excited to wake up in the
morning, do that thing.
Whatever the path, conflict and failure are not the end of the world. I hope the willingness to take risks will remain even when fear of conflict or failure creeps in. Taking risks might make you do things that go against expectations. Letting fear or shame drive you makes it impossible to be innovative.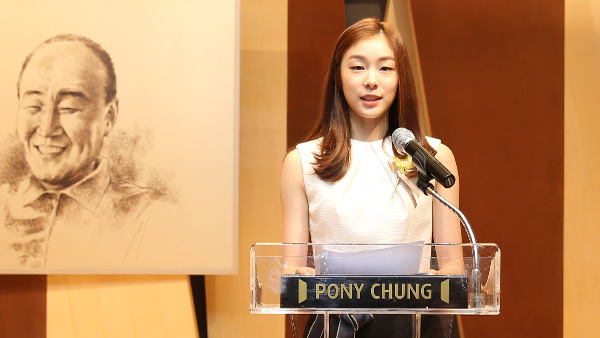 My innovation equals
new challenge.
For me, innovation is not only to substitute the old with the new, but also to create something different to compete with the world's top skaters.
All of the efforts that I went through to be no. 1 in the world were the procedures of innovation.
– 8th Winner, Yuna Kim
2010 Vancouver Winter Olympics Gold Medalist